New Mexico ARRL Section Manager – Ed James KA8JMW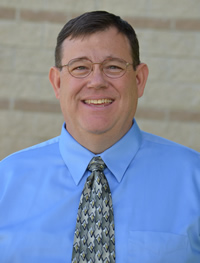 Ed first earned his novice license, KA8JMW, in 1978. Since then, he's savored from the broad palette that amateur radio offers. Ed's activities have included the design and fabrication of various projects from DC to daylight, QRP, net operations, traffic handling, rag chewing, contesting, DXing, transmitter hunting, search and rescue, public service communications, ARES, youth promotion, satellite operations, EME, and elmering/mentoring many new hams.
Amateur radio runs deep in Ed's family. His father Art, now a Silent Key, was WD8MMG.  His wife Carol (N5ZYP) and all five of his daughters — Rebecca (KD5PMX), Kim (KF5HOA), Amanda (KF5CHH), Kathy (KE5WKW) and Sarah (KF5OAZ) — all hold amateur radio licenses. Ed has served as New Mexico Assistant Section Manager for the past three and a half years and is an Assistant Director of ARRL's Rocky Mountain Division with a focus on emerging technologies.
Please meet the New Mexico Section's cabinet members who, along with over 60 additional appointed ARRL volunteers around the Land of Enchantment, work for New Mexico's League members:
Assistant Section Managers
Robert Truitt KE5OFK (Southern New Mexico)
Bill Boedeker NM5BB (Northern New Mexico)
Don Grab K5BIS
Affiliated Club Coordinator
Art Priebe N5ART
Official Observer Coordinator
Jerry Boyd WB8WFK
Public Information Coordinator

Pete Spotts NM5PS
Section Emergency Coordinator
Jay Miller W5WHN (Acting)
Section Youth Coordinators
Bob Longoria N5JH
Phil Darling KF5LEF
Sue Darling KF5LEG
Section Traffic Manager

Alden Oyer AG5S
State Government Liaison

Open – Contact us if you'd like to learn more about this role!
Technical Coordinator

Jim Lommen KC7QY